Your business must have a good looking and functional portfolio website or business website in order to attract new customers. While paid or custom HTML templates are always the best, you can still get a decent looking HTML template which is free, if you know where to look. In this post I have put together 10 free minimalist HTML portfolio templates that will give your online business the attention it deserves.
Portfolio
How about getting yourself a premium like HTML portfolio template for free? This template has almost everything that a premium template might have: eye catching graphics, user friendliness, to the point and more.

Sanura
If you are a freelancer or you have a small business, Sanura might be the free minimalist html portfolio template that you are looking for.

Akono
This HTML template comes with 6 different page templates and it might be best for small businesses and web/graphic designing companies.

Go Green Perfect
This is a very professional single column web 2 style minimalist html business website. It can be turned into a business website for almost any category with a little change in CSS and images. Need any help with editing your HTML/CSS template?
Lawyers & Attorneys
This is one of the better looking professional, yet free, HTML business templates out there. If you prefer some other color than black, you can easily do so by editing the CSS codes.

Distinctive
A clean and professional HTML CSS template for your business.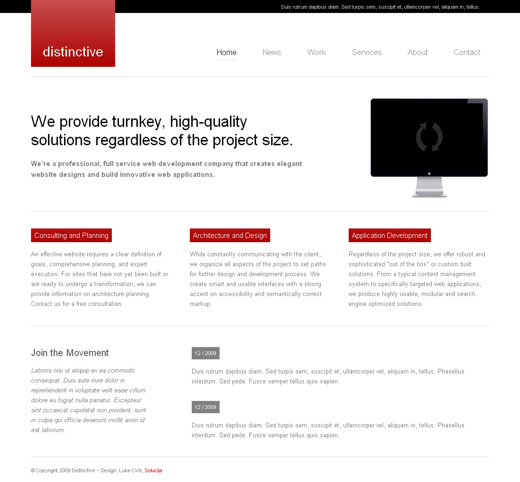 Ornare
A very premium looking portfolio website which is in fact absolutely free. There are many advanced features and beautiful graphics in this template. With a little modification it can turn into a great business website for you.

Your InspirationFolio
Graphically beautiful and great for freelancer and individual web/graphic designers.

Portfolio Template in HTML5 and CSS3
Very interesting one page portfolio template which gives the impression of 4 pages. Very cool and worth checking out.

Azuka
This free html template can be used as an online CV. Azuka is ideally suited for the person who wants to advertise his or her skills, experience and achievements through a stylish and professional design. It's a minimalistic, clean, lightweight resume template. Its also very easy to customize.

Did you like this post? Why dont you share this post with your friends so that they can have a go to. :)
---